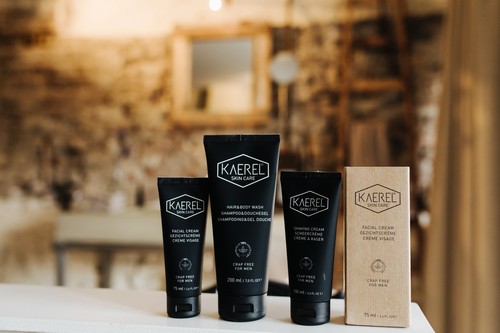 Self-care is "the practice of taking action to preserve or improve one's own health". When we talk about men and self-care, there is often a strong stigma attached to it such as: "men don't need to worry about those kinds of stuff", or "that's for women".
But times are changing! We're in an age where having a fit, healthy and visually pleasing lifestyle is the new cool, and men are certainly no exception to it.
Regardless of the outside pressure to be the best you, I think anybody living in 2021 can agree that taking care of yourself for your own wellbeing is what's most important.
So, having briefly touched on the importance of male self-care; this post will cover what you can do to maintain an effective routine and suggestions on male focused products from the "Kaerel Skincare" line that look out for your best interests.
LET'S TALK FACTS!
You're embarking on a selfcare journey, but don't know where to start. What better area is there than your skin?
According to Healthline.com, did you know that your skin is the "largest organ of your body?" - Well, you do now.
According to Eucerin.com, on average males have 20% thicker skin than females; higher collagen density and larger pores. This contributes to the fact that men produce more oil than women thus making it easier for bacteria to build up on the skins surface and cause acne to last much longer.
FACIAL SKINCARE
Let's face it, the reason why most men don't have some form of a routine is because you can't be bothered; it's too long or there's just no time! There is no need to go through the hassle of a 20-step routine that you won't keep up after 2 days, all you need are the necessities, but most importantly, consistency.
Daily Routine: Day & Night
1.       Cleanse - Morning cleansing is beneficial as it removes any toxins the skin eliminates during the night and refreshes the skin, preparing it for further product application. Night cleansing your skin is important to remove impurities, dead skin cells, and excess oil.
2.       Moisturise – Cleansing strips your skin of moisture, so it is important that you add moisture back into the skin afterwards. Day moisturisers tend to be more lightweight. Night creams, on the other hand, are typically heavier in texture and have different properties that help with skin rejuvenation during the night. Or to make it easier, you can use a 2 in 1 moisturiser such as Kaerel's Skincare Facial Cream which can be used as an aftershave balm and can be used both morning and night.
3.       Protect – Using some form SPF may seem like a non-essential step to you if you don't have sensitive skin, but that's not true. Some benefits of SPF: Shielding from harmful UV rays; helps to slow or temporarily prevent the development of wrinkles, dark spots and sagging skin and lowers skin cancer risks. 
Additional Steps:
Exfoliate – You should exfoliate your skin at least once a week because exfoliating helps to get rid of dead skin and leaves your face feeling smooth. For men with sensitive skin, any more than once a week may be too much, so go according to your skin type.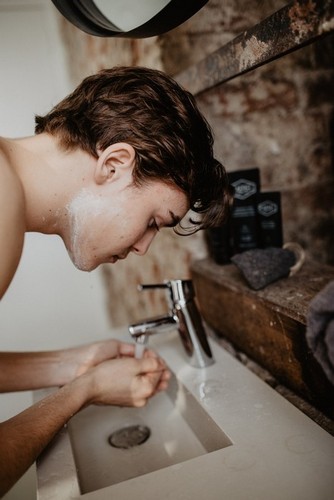 Shave – If you are a man capable of growing and maintaining a beard then that's great, but if you struggle in this area or you just don't want to keep your facial hair then shaving is the way to go. Daily shaving can cause irritation, especially on sensitive skin, about 40 percent of men suffer from skin problems caused by shaving, so using the right products is important. Kaerel's Skincare Shaving Cream is effective and mild for the skin, with an oil base it makes the skin and hair soft for easy shaving. After shaving, the skin remains soft.
BODY SKINCARE:
Let's be honest here, you're most likely not the one who fusses over what hair and body products you use, I mean, whatever is in the bathroom works – am I right? Now, you can smell like pink cherry blossom and summer fruits if you like, but it's most likely that those products are not doing any good for you or anyone who uses them.
Excessively foamy, highly fragranced products, despite getting the job done, results in your skin feeling dry and for those with sensitive skin, irritated. A kind suggestion would be the Kaerel's Skincare 2 in 1 Hair & Body Wash, with the Kaerel Roll-On. For men who like a shower gel that is not richly foaming and also odour neutral, this is highly recommended. This white shower gel seems to be especially suitable for sporting men; because it can be used for both the body and the hair so it's easier on-the-go.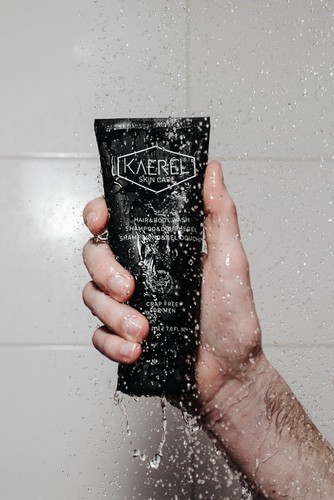 No parabens, mineral oils, sodium laureth sulphate (SLS), synthetic fragrances or dyes are used.  The roll-on contains squalene and pure silver, which offers antioxidants and anti-inflammatory properties and promotes a natural and pleasing smell without shutting down the skin's pores. The pure silver kills the odour-forming bacteria without agitating the skin.
Made with 100% naturally sourced raw materials, Kaerel's Skincare is truly 'Crap Free' whilst being completely vegan; certified by Cosmos Natural. 
STAYING HEALTHY: IT STARTS FROM WITHIN
I think that by now you would know the value of using products to improve skin, but as for any improvements we make for our body, it all starts within. What we eat can have a great effect on our skin and the way our body is able to function. No one is telling you to never eat a burger again, but aiming for a more balanced diet is the goal.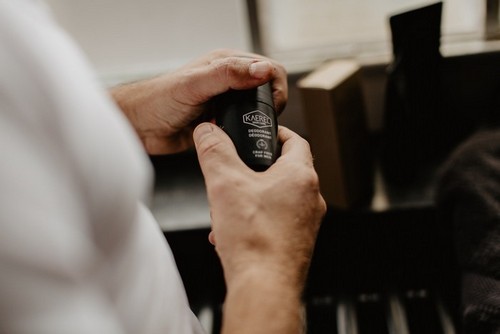 Going to the gym is definitely not an easy task, especially in these winter months and during a pandemic! But that's all the more reason to go the distance while you social distance. 
Working out can help to improve: respiratory; digestive and cardiovascular systems which also improves your skin as the increased blood flow nourishes skin cells.
Written By Paloma Santos
01.04.2021